Knitting Memories Along the Danube
July  28 to August 4, 2019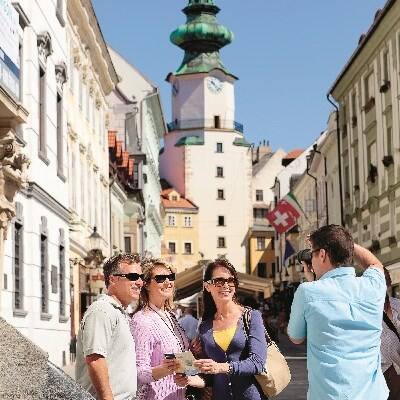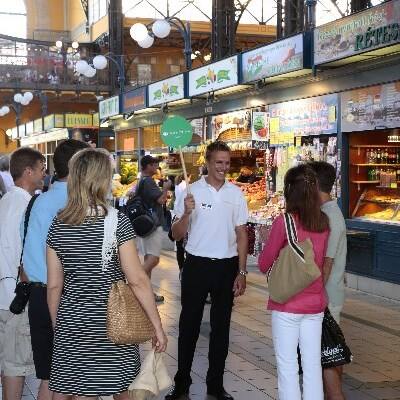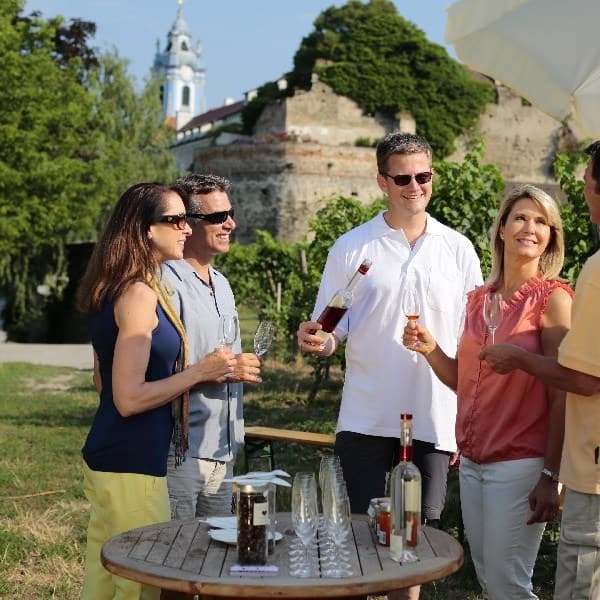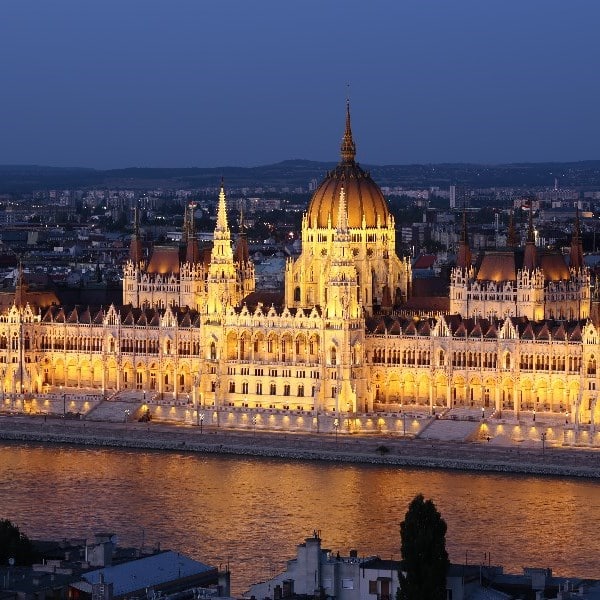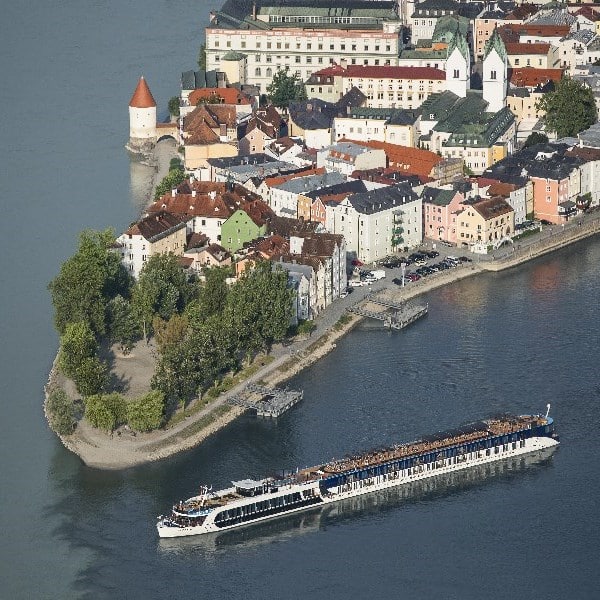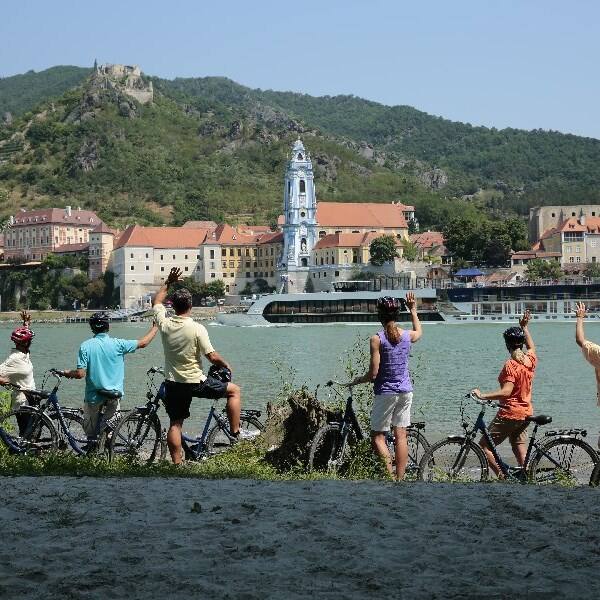 ABOARD THE AMACERTO
Cruise in ultimate comfort as we sail on the peaceful Danube River while enjoying the top rated river cruise line, AmaWaterways, and our ship, the AmaCerto.
This extraordinary river cruise and land tour will transport a limited number of knitters from Budapest, Hungary to Nuremberg, Germany from July 28 – August 4, 2019, with a pre-cruise option of 2 nights in Budapest and a post-cruise option of 3 nights in Prague.
Join designer and author Cynthia Yanok for Knitting Memories Along the Danube a luxury river cruise filled with new sights, new tastes, new friends and of course, knitting!
Even though the number of knitters is limited, friends and family are also welcome!
In addition to the knitting classes on board, a hand-dyeing workshop in Bratislava, and a shop hop in Vienna, there will be visits to specialty textile museums. We will enjoy Cynthia's special foodie finds en route including the cuisine of Cynthia's Slovak heritage at a local restaurant in Bratislava with our hand-dyeing instructor, Paulina.
You and your guests will have the choice of participating in an extensive line-up of included small-group tours based on your desired level of activity. Choose what you want to do, or not do, every day! No matter your preference, your days will be full of discovery and wonder.
Join us for Knitting Memories Along the Danube, July 28 to August 4, 2019. Space is limited, so sign up today! This river cruise experience will knock your hand-knitted socks off!

MEET CYNTHIA YANOK….


Having earned the reputation in the yarn industry for the past 25 years as a designer, author, and yarn shop owner, Cynthia Yanok has gone on to attain certifications as a River Cruise Specialist and an AmaWaterways Specialist. Her company, Travelin' Along, combines her love of knitting, travel, and food, to provide specialty tours around the world.
Cynthia's patterns have been published in Vogue Knitting Magazine, Sixth and Spring books, Knit Simple, Knitter's Magazine, Knit 'N Style, Noro Magazine, Creative Knitting, and also by major yarn companies. She is the author of Knit It Your Way, published by Martingale and Co., and her designs appear in countless books. She has studied fashion in Italy, Germany, and France and brings these experiences to her designs and teaching.
Cynthia has personally experienced river cruising with AmaWaterways. She has partnered with them in designing a unique experience specifically with knitters and foodies in mind. Cynthia knows first-hand how exciting and fulfilling it is to be Travelin' Along the rivers of Europe and is excited to share this unique river cruise, Knitting Memories Along the Danube — 8 days of laughs, leisure, learning and a lifetime of memories.
Cynthia will be your own "knitting concierge" on board and will be available to answer your questions and provide you with a learning experience unlike any other.
DAILY PROGRAM FEATURES
Enjoy an unforgettable 7-night cruise from Budapest to Nuremberg for knitters and their guests

| DAY | DESTINATION | ACTIVITIES |
| --- | --- | --- |
| 28 July | Budapest | EMBARKATION |
| | | Welcome Cocktail Party and Dinner |
| | | Illuminations Cruise |
| | | |
| 29 July | Bratislava | Knitters: Building a Journal of Inspiration |
| | |       AND Hand-Dyeing at Local Yarn Shop |
| | |       AND Tastes of Slovakia |
| | | Guests: Walking Tour |
| | |       OR Castle Hike |
| | | |
| 30 July | Vienna | Knitters: Tour of Vienna on a Shop Hop |
| | |       AND Textile Museum |
| | | Guests: City Tour |
| | |       OR Alta Donau Bike Tour |
| | | Klosterneuburg Abbey Bike Ride |
| | |       OR Free Time |
| | | |
| 31 July | Durstein | Knitters and Guests: Walking Tour and Wine Tasting |
| | |        Durstein Fortress Hike |
| | |       OR Apricots and Sweets Tasting |
| | | Knitters: Twisted Stitches of Austria |
| | | Guests: Cruising the Wachau Valley |
| | |       OR Danube Bike Tour |
| | Melk | Knitters and Guests: Benedictine Abbey Tour |
| | | |
| 01 Aug | Linz and Passau | Knitters: Austrian Stitches Projects |
| | | Guests: Walking Tour |
| | |       OR Passau Bike Tour |
| | |       OR Passau Castle Hike |
| | | |
| 02 Aug | Regensburg | Knitters: Cuisines Along the Danube |
| | | Desserts as Inspiration |
| | | Knitters and Guests: Walking Tour |
| | | Walhalla Bike Tour |
| | |       OR Bavarian Specialties Tasting |
| | | |
| 03 Aug | Nuremberg | Knitters: Show & Tell |
| | | Knitters and Guests: Medieval City Tour |
| | |       OR WWII City Tour |
| | |       OR Franconian Specialties Tasting |
| | | |
| 04-Aug | Nuremberg | DISEMBARKATION |
(Please be aware the this itinerary is subject to change)
INCLUDED FEATURES – SPACIOUS STATEROOMS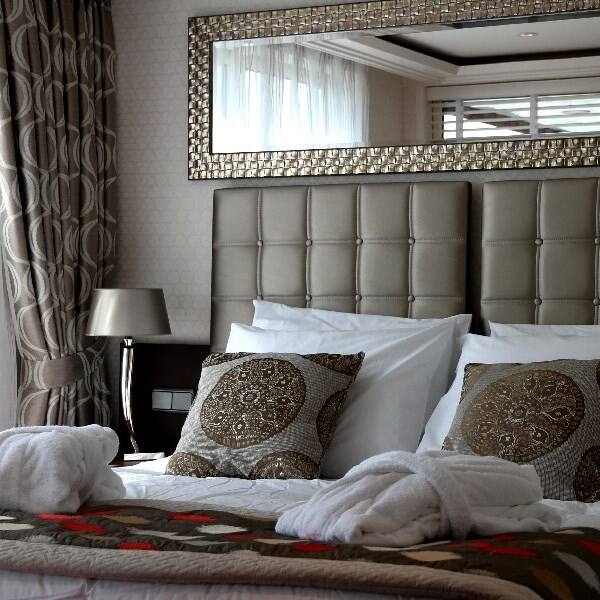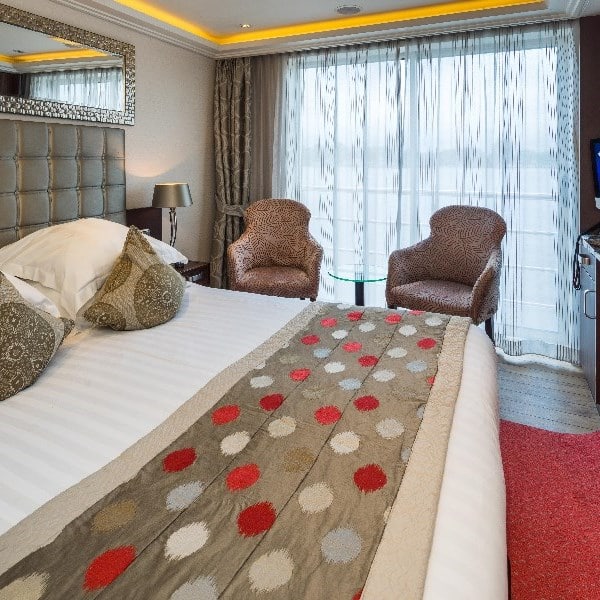 7 nights luxury accommodation in an outside stateroom (most with twin balconies)
Computer for internet access
Entertainment-on-Demand system featuring, movies, TV shows, news and music of
Mini-fridge, desk and sitting area
Bottled water replenished daily
AN ARRAY OF AMENITIES

Personalized service from a highly trained Cruise Manager during both cruise and land programs
Internet and Wi-Fi access
Sun deck pool with swim-up bar and walking track
Fitness room, massage services and hair salon
Main Lounge with panoramic views and bar
Daily entertainment including cultural performances

AWARD-WINNING DINING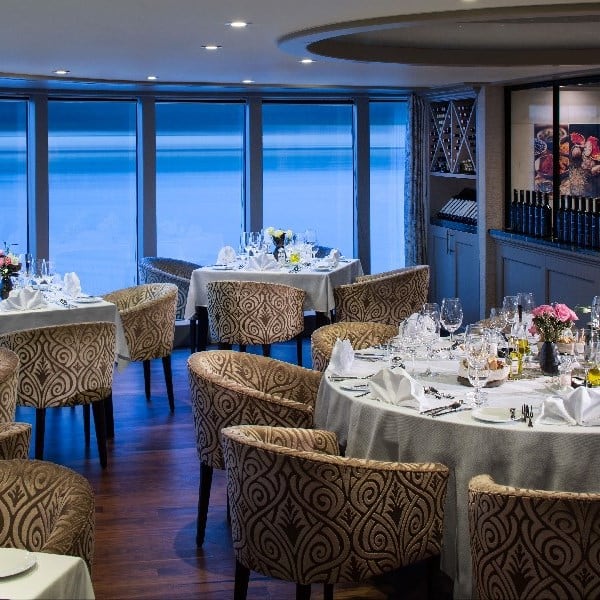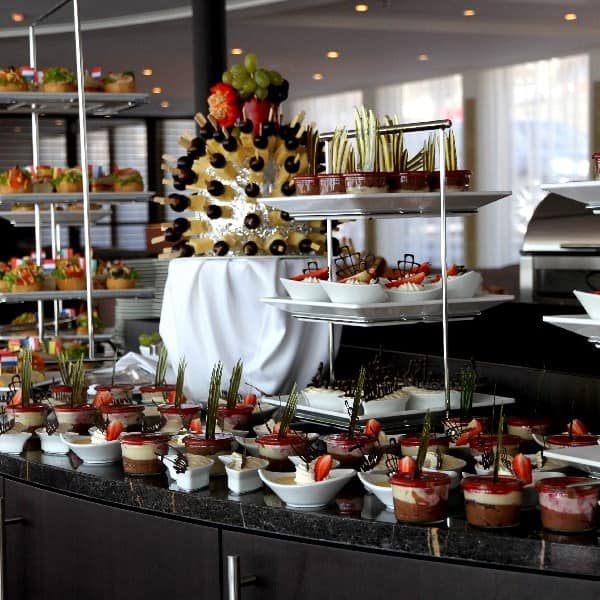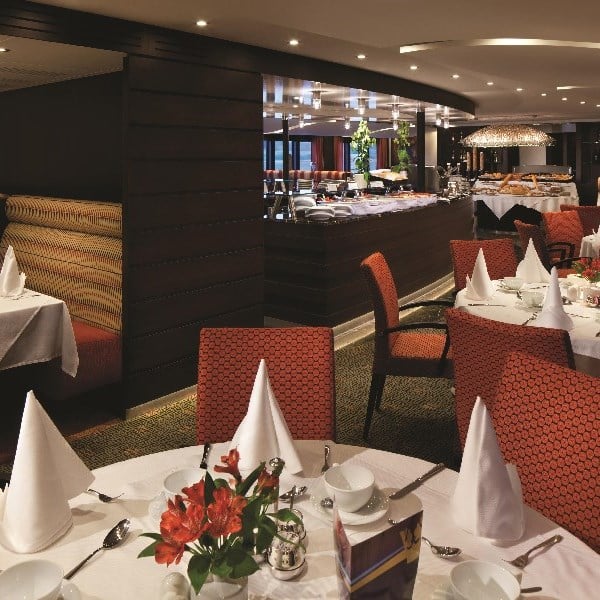 All onboard dining in a variety of venues
Regionally inspired cuisine made with locally sourced ingredients
The Chef's Table specialty restaurant
Welcome Cocktail, Welcome Dinner, La Chaine des Rotisseurs Dinner, Captain's Cocktail and Gala Dinner
La Chaîne des Rôtisseurs exclusive dining experience
Unlimited fine wine, beer and soft drinks with lunch and dinner
Unlimited sparkling wine and fresh juice with breakfast
Sip & Sail Daily Cocktail Hour with complimentary wine, beer, spirits and soft drinks
Tapas, sandwiches, snacks and refreshments served daily in the Main Lounge
A WORLD OF EXPLORATION

Immersive tours in every destination

Gentle, regular, active and late-riser tour options
Bike tours and hikes
Special Interest Tours
Knowledgeable guides
Personal headset for easy exploration
Airport transfers with purchase of air from AmaWaterways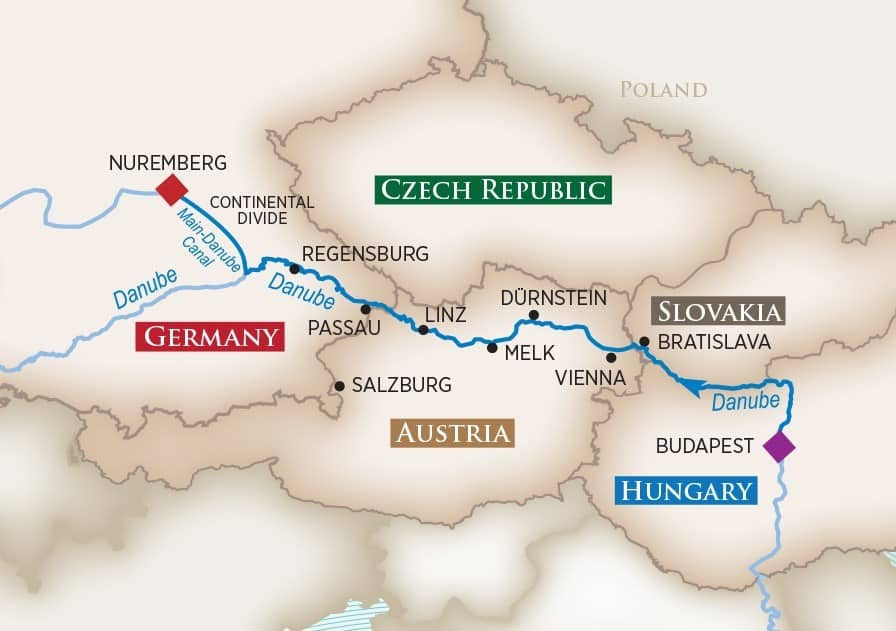 Thursday, July 26
ARRIVE IN BUDAPEST, HUNGARY
Arrive for your optional pre-cruise 2 night tour and be transferred to your hotel.
Friday, July 27
BUDAPEST
Savor the beauty of Buda and Pest on opposite sides of the Danube with a city tour that showcases many highlights, including the Great Market Hall, Heroes' Square, and Castle Hill. (B)
Sunday, July 28
BUDAPEST – EMBARKATION
Check out of your hotel and be transferred to your luxurious ship, the AmaCerto. (B)
Tonight, meet your fellow knitters and passengers at our Cocktail Reception and Captain's Gala Welcome Dinner. During the evening be treated to a special Illuminations Cruise around Budapest's famed Parliament Building. Grab your knitting, head to the lounge, and find out what knitting surprises we have in store for you! (D)
Sunday, July 29
BRATISLAVA, SLOVAKIA
Bratislava certainly has earned the title "Coronation City of Kings". The walking tour includes the Old Town Hall, Mirbach Palace and St. Martin's Cathedral. Or for more adventure there is a hike to Bratislava Castle high above the city. (B,L,D)
Knitters' Workshop: Knitting Memories – Building a Journal of Inspiration
Learn how to see and capture the elements of design in your surroundings before we arrive in port in the afternoon. We shall then take our knowledge to our hand-dyeing workshop with Paulina at her shop. A traditional, Slovak culinary experience will follow. Guests are welcome to join us at this optional dinner.
Monday, July 30
VIENNA, AUSTRIA
The "City of Waltzes" offers a treasure trove of gems. Guests may join a city tour showcasing its regal splendors, including the majestic Opera House and the former Imperial Palace of the Habsburgs before concluding in Vienna's historic city center, a UNESCO World Heritage Site, and visiting St. Stephen's Cathedral. For a more active exploration of the area a guided bike ride along the Danube is offered. The afternoon is for enjoying leisure time or pedaling to Klosterneuburg Monastery on a guided cycling tour. Knitters will tour Vienna on a Shop Hop with fabulous foodie finds along the way.  The afternoon will include a visit to see the Textiles Collection at the Museum of Applied Arts. (B,L,D)
Tuesday, July 31
DURSTEIN – MELK
After reaching the Wachau Valley in the morning, you'll have a choice of three excursions in Dürnstein. Partake in a walking tour along cobblestone streets to the luminous blue facade of the Baroque Stiftskirche, its famed church tower, before enjoying a wine tasting in a local cellar. For a beautiful view of the Wachau Valley, hike up to the fortress where Richard the Lionheart was once held. Alternatively, visit a local boutique, where you'll be treated to the region's finest apricot products.
After your morning excursions and lunch, there will be a knitting workshop on the twisted stitches of Austria. Learn how to form traveling stitch patterns with simple stitches and basic techniques.
Guests will have a choice to cruise through the Wachau Valley to Melk or join a bike tour along the Danube. Upon reaching Melk, take a tour of the UNESCO-designated Melk Abbey.  (B,L,D)
Wednesday, August 01
PASSAU, GERMANY
Enjoy a scenic morning sailing to the medieval city of Passau. Begin your knitting project using the skills from class one. Upon arrival, join a walking tour through this 2,000-year-old city, noted for its Gothic and Italian Baroque architecture and St. Stephen's Cathedral. Guests looking for a more active morning can choose between a guided bike tour along the Danube, or a guided hike up to the Veste Oberhaus Fortress overlooking Passau. (B,L,D)
Thursday, August 02
REGENSBERG, GERMANY
As you cruise to Regensberg this morning, knitters will have a workshop on Cuisines Along the Danube. The emphasis will be on desserts as inspiration. Upon arrival, explore one of Germany's best preserved medieval cities, on a guided walking tour showcasing the city's architectural highlights, including the Old Town Hall and the Porta Praetoria, gates to an ancient Roman fort built in 179 A.D. As an alternate option, sample some of Bavaria's specialties— beer, sausage and pretzels; or bike to Walhalla where you'll see the neo-Classical white marble temple inspired by the Parthenon in Athens. (B,L,D)
Friday, August 03
NUREMBERG, GERMANY
Enjoy a scenic morning cruise as the ship crosses the Continental Divide via the Main-Danube Canal to Nuremberg. Knitters will get together for a final class plus show and tell. Your Personal Knitting Concierge, Cynthia, will be available for project help all day. Later on, explore the medieval city center with a tour that showcases the Imperial Castle and the famous town wall, as well as Albrecht Dürer's home and Market Square with its legendary fountain. Or you can take a guided tour of the city's WWII history, including a visit to the infamous Zeppelin Field, a museum built on the site of former Nazi rallies and the site of the Nuremberg Trials when not in session. Alternatively, savor traditional Franconian specialties by sampling famously delicious Nuremburger Bratwurst, Rot bier (red beer) and Lebkuchen (gingerbread). (B,L,D)
Saturday, August 04
NUREMBERG, GERMANY – DISEMBARKATION
This morning, depart the ship after breakfast. (B)
Optional Post-cruise tour
PILZEN AND PRAGUE, CZECH REPUBLIC
Depart the ship after breakfast and travel through the countryside to Pilzen, a city perhaps best known for producing Pilsner beer. You will have free time to explore this lovely town and have lunch before continuing to Prague and checking into your hotel. (B)
Sunday, August 05
PRAGUE
Discover Prague with a choice of a city tour or a castle hike. Both will reveal why Prague is considered one of Europe's most attractive cities, with a historic city center that is recognized as a UNESCO World Heritage Site. See all the key highlights, including the National Museum, Wenceslas Square, the 1000 year old Prague Castle, and Old Market Square, where you will find the famous Astronomical Clock. (B)
Monday, August 06
PRAGUE
Spend a day at your leisure. Wander through the city admiring its diversity of architectural styles: Gothic, Renaissance, Baroque, Rococo, and Art Nouveau. Meander through its colorful local markets or simply relax in a café and enjoy the many choices of Czech beer. (B)
Tuesday, August 07
DEPART PRAGUE
Bid farewell to Prague and prepare for your flight home. (B)
Tour Price
Knitters from $3649 per person, double occupancy
Single supplement add $1799
Non-knitters from $3349 per person/double occupancy
Port charges are included.
Pre- and post-cruise land program
2 nights in Budapest and 3 nights in Prague with transfers included for $1360 per person/double occupancy.
Extra hotel nights are available
Airfare may be arranged from your choice of airport and includes transfers.
These cities and towns are best experienced by walking. In order to fully enjoy your trip, you will need to be able to walk distances of up to 5 city blocks at any one time, at a moderate pace. In addition to uphill climbs on some streets, some of which may be cobblestone, you may also need to climb several flights of stairs. If you have any questions about your ability to join the tour, please call and we can discuss this with you.
CONTACT US TO HOLD YOUR SPACE TODAY!!!